Faq's new shape seems like a really savvy choice, given that its strength is in the air and that it's unlikely to face siege units thanks to its locale.
But... the description is bothering me. It's almost as if it's a reference to something.
It was circular, sharp, and shining.

The outer "walls" were useless against siege, even worse than Transylvito's. They consisted of a ring of stone teeth with a reflective coating of tin, inward-curving towers that terminated in spoon-like roosts for gwiffons and megalogwiffs. There was no gate. Vinny simply flew between these pillars and entered the city. A horn somewhere announced him as an arriving allied unit.

The garrison was a set of six more teeth, much taller, fortified with solid walls that joined them like webbing. Three of these walls had gated archways, adorned with Gothic patterns in wrought iron and stone. Vinny topped the walls, and veered skyward.

At the center of the garrison rose a tower constructed with all the ferocity of Jillian's imagination. It was shaped something like a white marble palm tree. The trunk was a twist of six massive columns, tapering slightly as they reached straight upward. The top of the tower was a miniature fortress, a bristle of glass and hard spikes, with ledges and platforms where many dozens of flyers could land, or hundreds of defenders could lurk.
It reminds me of something, I think. Thus far, I've only come up with the Ivory Tower as seen in the movie
The Neverending Story
.
The entire "tower":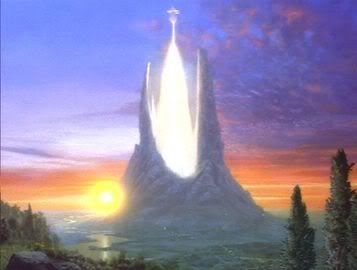 A close-up of the top:
Any thoughts?