Dis popping orders
Rihanna agrees to stay for a single additional turn for 1000 shmuckers, but informs you that her usual price is 1000 shmuckers for turning a unit, and 2500 per turn for increasing production. This gift to Coil was in return for favors rendered in the past, but she considers them even now.
Turn 6: 3 Naughty Kitties w/ 4 Zed Archers
Turn 7: 3 Naughty Kitties
Turn 8: 2 Heck Pups
Turn 9: 2 Heck Pups
All will reach Dis City on Turn 9.
Tod's and T. Coil's interrogation of Wandereus and Junetta
Breatheairia currently has a Master-level Hippiemancer named Philodendron ('Phil') Amaranthus, a low-level Thinkamancer named Areolawyn, a high-level Dollamancer named Elmoruxpin, a mid-level Healamancer named Kurelite Woonds, and low-level Shockamancer named Gandolfa Lundgren. Breatheairia had been blessed with 2 healamancers, which is one of the reasons Junetta was allowed to remain in the 'backwoods', warding the less-defended cities. Lundgren had been sent to the front in order to gain experience, so she may be considerably higher level by now. Phil is their Chief Caster.
Wandereus can fill in some details about the Breatheairian Chief Warlord. She's a high-level Heavy Archer named Romanaveratnalunda, a fierce leader and dancer and one of the most beautiful creatures in the kingdom. She rides an winged Fryahovar into battle, one of the unique creatures that Breathearia can pop. The wings indicate that the Fryahovar is at least 5th level - the beasts don't pop with flight, but gain it with sufficient experience. Breatheairia actually has two distinct city types, since they chose not to convert several of the Farkistan cities, whose units were similarly align. Former Farkistan cities can pop Gumps, Gumptions, and the dreaded Gump Roast, a fiery death-dealer. Breatheairian cities can pop Faeries, Fryahovar (four-hooved creatures with a sharp horn) and Fae Done-aways, dwagon-like creatures with a number of unique abilities. Wandereus has never seen most of these creatures, so he cannot provide accurate stats.
Wandereus and Junetta are fairly familiar with the city layout between here and Breatheairia, and although they're not sure of exact distances (something about the turnamancy process has left some of their memories hazy), they can still recall the general layout and paths between the cities.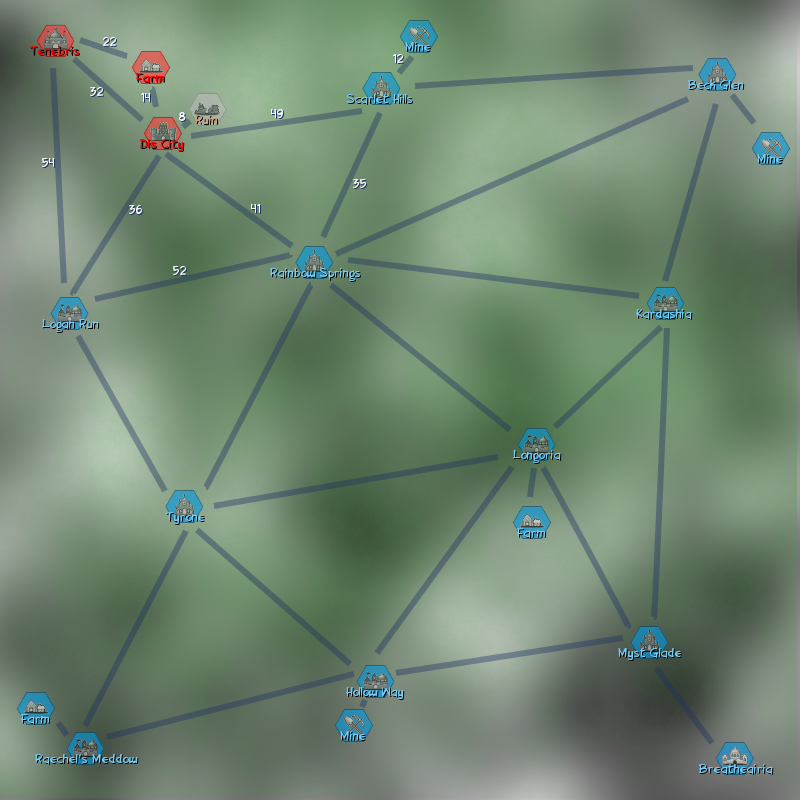 Numbers indicate the shortest-path distance between the two points. If lines do not connect two points, there is no practical path that leads directly between them.
Vinny's conversation with Junetta
The Magic Kingdom is the region where casters whose sides have fallen end up, if they survive their side's passing. As such, they sustain themselves by selling their services to different sides. They forbid casters whose sides are still standing from selling their goods or services to other sides in order to maintain their monopoly. (Thinkamancers and Predictamancers are often stationed within Portal Park to detect those who enter with such intentions.)
Basic scrolls start at 1000 shmuckers each, and get significantly more expensive the more powerful the scroll is. Basic potions are also in demand, and are priced similarly. Very wealthy sides usually buy up most of the magical resources almost as quickly as they can be made.
Tod's request that Vinny examine the magic items
As far as he can tell, nobody made the magic items. They don't show any signs of distinctive craftsmanship that casters put into their items as their signature. These appear to be generic items that spontaneously popped into existence.
Charlie's Archons
The Archons behave as perfect guests while in Dis City. They're up in the airspace practicing flying in formation when the Balrug arrives, but make no effort to leave the city when it departs again the next day, so while they notice Junetta and Wandereus, you manage to keep them away from Triage and Vinny for the duration of their stay. Their body language is always precise and flirtatious, and they drop no hints about about their own home or Charlie's affairs.
Buffy does comment, however, on the lack of heraldry amongst the units. The style that the Tenebrisian units portray still seems very mercenary to her; they don't seem to have a distinctive flair that differentiates the sides. She notes that the elves are also somewhat unimaginative in this regard, but Jetstone, for example, has some lovely uniforms. She suggests that your ruler give it some thought, and mentions in passing that Charlie can provide Image Consulting Services if you'd like for a very reasonable price...
Spot Check Clarifications
First, when does a character's spot check happen? (At the beginning of each rould, when it is time for the character to act, immediately after the spell is cast, whenever there is a possible interaction between a veiled unit and a character who can spot check, etc?)
Characters get a single, secret spot check once for each spell, made when the Foolamancy'd unit is first seen. If they witness the spell being cast and the unit change, they may automatically make their spot check, depending on the spell. Changing a unit's appearance while it can be seen, for example, won't fool anyone, but units can vanish from sight and cannot be targetted unless spotted again..
Next, do spot checks consume any actions of the character making them or are they 'free'?
Spot checks are free and hidden. You'll only know if you make one successfully; you're assumed to be alert at all times.
Thirdly, do leadership bonuses on the foolamancer factor into the checks?
No. Only the Foolamancer's own stats do.
Lastly, once a single character makes a successful spot check, can other characters attack units the spotter can see? (In essence, can we make like Old McBushybrows?)
Once a unit makes a successful spot check, they can automatically convey their knowledge to all those on their side.
Role-playing XP for the current session
The next RP session begins after the completion of the next combat scenario.
Yuri : 4 RP XP
Tod : 3 RP XP
Rolf : 3 RP XP
Vinny : 2 RP XP
Coil : 2 RP XP
Bill : 2 RP XP
Brick : 2 RP XP
Triage : 2 RP XP
Please finalize Dis City popping orders for Turn 6 & 7.
Note that, if you choose to sacrifice one of the uncroaked, you can choose what units to pop for Turns 8 & 9 after you see the army stats. Also, let me know if there are any outstanding or additional questions you'd like answered before the start of the next scenario.