Final Results
At last, the bone dagron lies dusted at your feet. All that's left of him is a skull, which oddly didn't dust, and now appears to have a small golden plaque on it that reads "Slain By Tesla Coil (with some help)." The croakamancy structures collapse into dust at the moment the dagron dies. The remaining uncroaked attempt to make their way towards the wounded Yuri, but Bill's loyal soldiers intercept them, one by one, and destroy most of them. Bill and Rolf finish of the remainder.
Each member of the team gains 22 XP. Rolf GAINS A LEVEL! William GAINS A LEVEL! Yuri GAINS A LEVEL! Cupid GAINS A LEVEL! T. Coil GAINS A LEVEL! Triage GAINS A LEVEL! Bill GAINS A LEVEL!
A few breathless moments pass, and there is a loud click as the chest opens. In addition, the portal nearest to the dagron's skull reactivates, leading (you assume) back to the Ruin Hex.
The chest contains the following :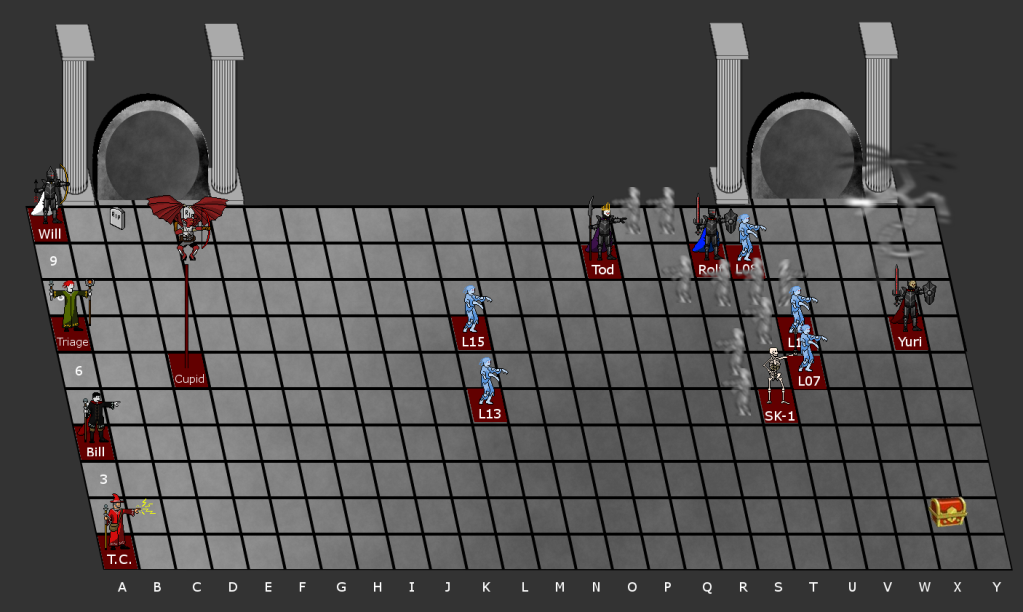 Note that I've removed the banked AP / Combat stats from the character listing below. Once the current turn ends, the updated rules will go into effect.
Because of the significant changes to the cost of abilities and the changes to leveling, as well as the introduction of new caster disciplines and mounts, all players can completely revise their character's build using the new rules. If you wish, you can even 'retire' your current character (he becomes an NPC) and create a new character with the same XP. Note, however, that magic item distribution will be made to the current characters first, so you might be sacrificing one or more items if you choose to do so. If you have not reviewed the new rules, please take some time to do so now. The updated rules are at the end of the current rules thread, and will be moved to the front of the thread as well.
Player Stats
Results
XP Breakdown :
As always, let me know if you see any mistakes.